Frac Sud
Frac Sud offers a special screening of performances by the group of feminist artists founded by Martha Wilson – DISBAND archive 1978-1982: performances by Martha Wilson, with Ilona Granet, Donna Henes, Ingrid Sischy and Diane Torr.
Nocturne Friday, September 1, 6-10pm
Saturday, September 2, 2pm to 7pm
Sunday, September 3, 2 pm to 6 pm
Frac Sud – Cité de l'art contemporain
20 Bd de Dunkerque, 13002 Marseille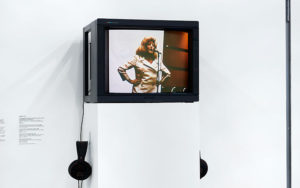 Gallery Night PAC
As they do every autumn, the Marseilles galleries in the PAC network are joining forces with Art-o-rama to offer the public a nocturne on Saturday evening. This year, 15 galleries are taking part, opening their doors to create an itinerary through the city until 10pm.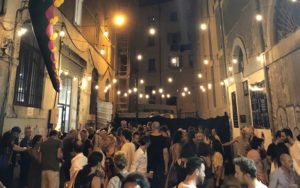 13001
Art-Cade galerie des Bains douches de la Plaine
Consolation du saule pleureur, Anne-Marie Pécheur
35 bis rue de la Bibliothèque, 13001 Marseille
Fotokino
S—T, J—T & autres pirouettes, Sandrine Nugue's residency outing
until 8 pm
33 allée Léon Gambetta, 13001 Marseille
La Compagnie, lieu de création
De printemps en printemps, Suzanne Hetzel
Concert at 7:30 pm of Amelia Tabeï for the finissage
19 rue Francis de Pressensé 13001 Marseille
13002
Atelier Tchikebe
Biafine, group-show conceived by Dialecta et TCHIKEBE
Opening on September 2 from 8pm, followed by a blockparty from 9pm to 2am with Rubin Steiner, Pola Soa and Olivier l'Amateur
2 bis rue Duverger, 13002 Marseille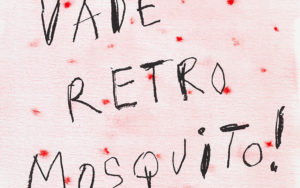 Centre photographique Marseille
The holy seriousness of play, Paulien Oltheten
74 rue de la Joliette, 13002 Marseille
13003
Triangle – Astérides
Ni drame, ni suspense – les conditions de la durée
until 7 pm
La Friche la Belle de Mai, 41 rue Jobin, 13003 Marseille
Comptoir de la Victorine
Soma at Comptoir de la Victorine
Noon – midnight, concert, Zone Négative at Supersonique!
29 rue Toussaint, 13003 Marseille
13005
Galerie territoires partagés
Aurore Salomon, co-organised by PARÉIDOLIE / 10th edition
Opening
81 rue de la Loubière 13005 Marseille
13006
Double V Gallery
La pêche 7/7, Elvire Bonduelle
Opening
28 rue Saint-Jacques, 13006 Marseille
Galerie de la Scep
Regain Cozmic, Maxime Sanchez
Opening
102 Rue Perrin Solliers, 13006 Marseille, France
Le 33
Projet d'été, Malo Chapuy, Katia Jacquet, Barbara Carnevale
Finissage
33 rue Saint-Jacques, 13006 Marseille
Nendo Galerie
Perfection from Imperfection, Yasuhisa Kohayama
Finissage
31 rue Sylvabelle, 13006 Marseille
Maison Archik Marseille
AMCA OVAL
Finissage
50 rue Edmond Rostand, 13006
Rond-Point Projects
one day more, Pauline Ghersi
Opening performance
238 rue Paradis, 13006 Marseille
Salon du Salon
Du muable, exposition personelle de Sophie Blet
From August 30th to September 17th
Opening Saturday September 2, reading from 8 pm to 10 pm by Sophie Blet and Sophie Lapalu
21 avenue du Prado, 13006 Marseille
13007
La Traverse
Joseph Cornelius, solo-show
Opening
16 Traverse Ste Hélène, 13007 Marseille